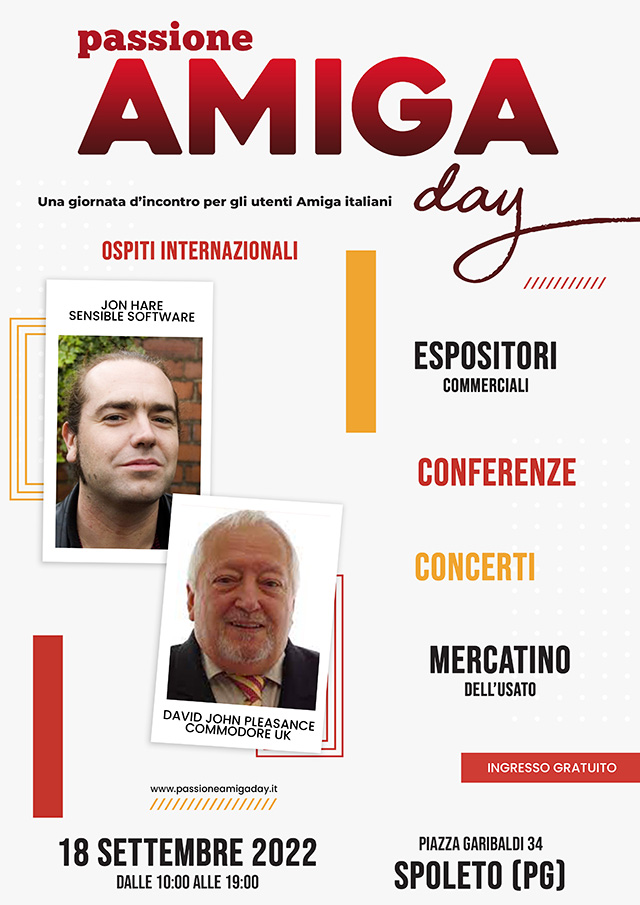 September 18, 2022 Spoleto (PG)
www.passioneamigaday.it
Passione Amiga day is a meeting day for Italian Amiga users
with commercial exhibitors, conferences with Italian and international guests and a flea market organized by Passione Amiga, the paper magazine in Italian for fans of Amiga.
The location, in the historic center of the city of Spoleto, is the ideal place to spend a weekend in contact with history, culture and food and wine; Spoleto has been able to combine modernity with its past that can still be breathed in the streets, squares and which makes it a unique city in the world. Because of its charm it was chosen as the location for the RAI Uno fiction "Don Matteo".
After the success of the first edition, the Passion Amiga day 2022 will take place on September 18, 2022 with free admission.
Several commercial exhibitors, including the historic magazine Zzap !, ACube Systems, Virtual Works, Retrogaming & Toys, Passione Amiga and RetroGiovedì (which will present the new version of the Waffle, a device that allows you to use Amiga floppies under PC emulation) and many associations such as Commodore Mania, Bologna Nerd and Sbrat.
There is also an entertainment area with various Amiga stations for free use by the participants in the event and a "second-hand market" section where it will be possible to buy and sell second-hand Amiga material.
This year important foreign guests will be present at the event such as
David Pleasance
, former director of Commodore UK (the most active Commodore headquarters) and
Jon Hare
, head and programmer of the legendary Sensible Software.
In the afternoon there will be lectures by the following speakers Carlo Pastore, Lorenzo di Gaetano (who will present his game engine "Planar"), Paolo D'Urso and David Pleasance, and at 6 pm there will be the concert by Jon Hare.
Admission to the event is free
and it is possible to consult the detailed program on the website
www.passioneamigaday.it
, where it is also possible book seats for the flea market or commercial banquets.
In addition, for those arriving in Spoleto the day before, on the evening of Saturday 17 September the "
Dinner of the Amigans
" will be organized at the 900 Casual Restaurant with typical dishes and local wines. It is possible to book for dinner by calling +39 0743 778169.