Replayed Last Ninja 3 for Amiga again recently and since it had been years since the last time I finished it, I found the maps very confusing again.
So this time I made maps of each level, for the next time I decide to play through the game :P
Interesting how every level is exactly 16 screens big, the levels feel bigger than that while playing in my opinion... probably because of all the exits from various screens and the very confusing layout.
Also wrote a little solution for the game, with directions (tried finding the quickest paths to take by looking at the maps I'd made).
Seems there isn't much info like this about LN3 online, not that I could find anyway... so it might be useful if someone wants to finish this game.
Maps -
Level 1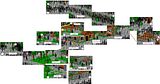 Level 2

Level 3

Level 4

Level 5
Level 6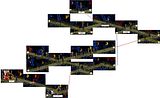 Level 1 solution -
Get gloves
Left
Get shurikens
Left
Get sticks
Down uppermost path
Get life
Up lowermost path
Down lowermost path
Get nails
Right
Get plank
Up
Up
Get sword
Right
Get chain
Climb cliff face
Get bottle
Climb down cliff face
Left lowermost path
Get gunpowder
Right
Climb cliff face
Up
Up
Use gunpowder bottle with rock
Get scroll
Down
Down
Climb down cliff face
Left lowermost path
Right
Up
Up
Get scroll
Down
Down
Kill guardian using sword
Enter door
Level 2 solution -
Left
Left
Get rope
Right uppermost path
Right
Down
Left
Climb down wall using rope
Right lowermost path
Get pump
Crouch near water lily to make it start moving
Right
Right
Jump over using lily
Right
Right
Get life
Left uppermost path
Get scroll
Right lowermost path
Left lowermost path
Left
Jump over using lily
Left
Left
Left
Left lowermost path
Kill guardian using nunchucks
Enter exit
Level 3 solution -
Left uppermost path
Get staff
Left lowermost path
Left
Right lowermost path
Get scroll
Left lowermost path
Left uppermost path
Jump on docks
Right (on docks)
Get plug
Left (on docks)
Jump off docks
Left uppermost path
Left uppermost path
Right uppermost path
Right uppermost path
Use plug with vortex
Right uppermost path
Get life
Right
Right lowermost path
Get shuriken
Left
Right
Kill guardian
Enter exit
Level 4 solution -
Right
Get handle
Right uppermost path
Jump over lava stream (on the floating boards)
Right
Climb wall using handle
Get scroll
Right
Right
Right uppermost path (door)
Right
Get life
Right
Get gas mask
Right
Kill guardian (using shuriken)
Right uppermost path
Right lowermost path
Get ingot
Right
Get key form
Left
Left
Left lowermost path
Left uppermost path
Left lowermost path
Left
Left
Left uppermost path
Left uppermost path
Climb down wall (using handle)
Left
Equip gas mask
Jump onto middle area
Left lowermost path
Get hot bowl
Right
Jump over lava to cauldron
Use key form with cauldron (makes key)
Right
climb wall (using handle)
Right
Right uppermost path
Right (door)
Right
Right
Right
Enter exit
Level 5 solution -
Get shrunken head
Right
Right
Left lowermost path
Get handle (?)
Right lowermost path
Right
Climb wall (using handle)
Right
Get flask
Left
Climb wall (using handle)
Left
Use head with decapitated body in chair (gives you scroll)
Right
Right uppermost path
Right
Get cheese
Left lowermost path
Jump gap
Right lowermost path
Right uppermost path
Use cheese with mouse (gives you sword handle)
Left
Left lowermost path
Get ink
Right
Right lowermost path
Jump gap (get REALLY close before jumping!)
Right
Kill guardian (using fists)
Enter exit
Level 6 solution -
Left uppermost path
Left uppermost path
Get life
Right uppermost path
Jump over gap
Get quill
Jump over gap
Right uppermost path
Get crowbar
Right
Left lowermost path
Left
Left lowermost path
Use crowbar with plane (gives you bandana)
Equip bandana
Left uppermost path
Left
Equip sword
Block using sword to deflect projectiles back at the big boss until he's defeated
Kill robot boss