Holy crap!
So I just installed FS-UAE (which was literally a one-click install) on my late-2012 MacBook Pro Core i7/16GB laptop and IT WORKS! I just threw the Kickstart 3.1 ROM-image, Workbench 3.1 ADFs, and select application ADFs into their respective FS-UAE directories (i.e., "Kickstarts," "Floppies," "Hard Disk"), all just from the macOS Finder, and voila!
And, my beloved old AI software, Magellan 1.1 WORKS! This expert system software (
not
Opus Magellan) is kind of the whole reason I wanted an Amiga again—to run this one app—but now I can run it on a MacBook Pro laptop! Woohoo!
There's one Magellan results-window which doesn't display properly (text overlaid upon other screen-text) but it doesn't crash the program and the UI is still mostly readable (most other screens display correctly). Otherwise, Magellan 1.1 appears fully functional in the FS-UAE environment!
I haven't run this application since 1989, so this is quite a trip!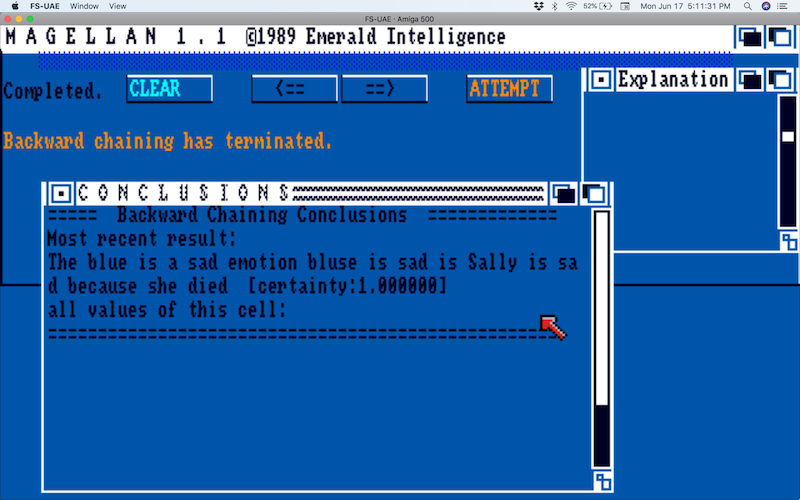 For more than a decade (actually, three of 'em), I thought I'd never see this app running again, and FS-UAE's 2.8.3 emulation seems pretty stable on macOS High Sierra 10.13.4. Surprisingly, Magellan 1.1 is running on Kickstart 3.1 ROM-images, in emulation no less (Magellan 1.1 wouldn't run on my old Amiga A2000HD system after I upgraded it to 3.1 ROMs—Magellan only ran when Kickstart 1.3 ROMs were installed, so there must've been some other incompatibility).
If FS-UAE can run my other multimedia apps (e.g., AmigaVision, Scala, Hyperbook, etc.), I won't need to buy a PC laptop to run WinUAE at all.