Hi everyone.
I'd like to invite you to participate in Amiga Tool Jam which run from May 1st to October 31st.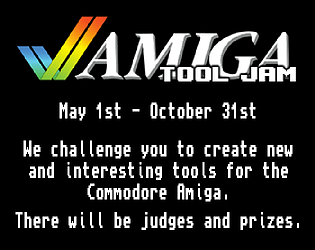 You can choose to develop a piece of software in the following categories:
Utility - Small piece of software often without GUI and run from CLI.
Tool - Larger and more advanced piece of software with GUI.
Commodity - Small executable which enhances system usability. Commodities are usually loaded at system startup. Many require no interaction and do not feature any GUI interface.
Most Useless Tool - A tool that fixes a problem nobody has, or performs a completely pointless task for no good reason (and often extremely overengineered). Example: A tool that tells you if your Amiga is powered on or off Have fun, be creative!
Other - ARexx scipts, Icon packs, Workbench wallpapers etc. Basically anything that doesn't fit the other categories.
Any
Check out the jam page for rules and other information.
https://itch.io/jam/amigatooljam
Hope to see you in there, and please help spread the word
- zooperdan