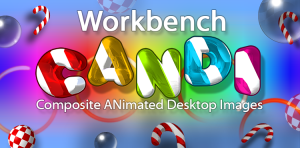 A-EON Technology Ltd is pleased to announce a new version of WB CANDI animated Workbench backdrops for AmigaOS 4.1. The new version features a special Christmas backdrop as well as a Space theme and is available now on AMIStore Amiga App Store.
What is CANDI ?
Back in January 2014 we were discussing ideas on how to use some of the extra CPU and RadeonHD power that the AmigaONE X1000 and X5000 systems provide. The idea of modernising Workbench with animated backdrops was developed and Thomas Claus, Frank Menzel and Keving Saunders offered their services for this new project. We hope to continue expanding this exciting project and more like it in 2015 as part of A-EON Technology's ongoing commitment to investing in new Amiga software.You can view CANDI video demonstration here:
apps.amistore.net/candi
Changes In This Release
- new candles in Christmas CANDI theme
- space theme star twinkles slower
- if a normal backdrop is saved, before a CANDI is started, the WBPattern Prefs will be saved and restored if CANDI is closed
- icon rendering improvements, so the CPU usage will be lower most on scenes with low motions
Where do I get it?
It can be now downloaded from the new
AMIStore App Store
for AmigaOS.
This update is FREE for existing CANDI users.
Special Thanks
Special notable thank you from A-EON Technology go to: Frank Menzel, Thomas Claus and Kevin Saunders
www.a-eon.com
A-EON Technology Ltd