Hello peeps.
I've got a Blizzard SCSI kit, so I can attach more memory to my Blizzard 16030@50, all in a non-towered 1200, but the scsi cable seems to be missing the plate,
With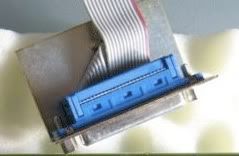 without (mine)

I was sure that was required to attach it to the back of the 1200, but the seller says,
"Remove your diskdrive. Remove the rear SCSI Port cover (on the right left), Then put the connector in the SCSI Port hole and fix it with a little screw to the A1200 bottom case (there is a hole already). Put you diskrive back into the case, over the cable."
Is that right, I can't quite see how it would hold it in position?