Hi!
I have a spare fully tested and working A4000 Motherboard, it comes with Buster 11 in socket, 3.1Roms and fully loaded with Ram
The original battery was still in place but had not leaked, however since the picture was taken I have removed the battery to avoid future leakage.
All ports are working, sound is load and clear.
I'm looking for
£150 + P&P SOLD!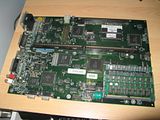 I also have a partial A4000D case here, front plasics (yellowed and missing badge) metal chassis with support bar & power button/PCI brackets. There is no lid, PSU, HDD cage or Busboard. I am happy to include the case parts for the cost of P&P if taken with the Motherboard
Bear in mind if the case is taken this will be well over the 2kg Airmail limit and will then need to be shipped by Courier (£10-£15 in UK, £25-£30 EU, £40+ outside EU and silly prices in the far away destinations)
Thanks for looking