I was looking into the possibility of building a new keyboard in Amiga layout. It is possible by modifying an existing keyboard except some keys (esp. the Fn keys) are non-standard sizes, I can get these custom made but gets expensive just for one. But then I had an idea.
A lot of people like to paint their Amiga cases black but the problem remains of what to do about the keys. It would be nice to be able to replace them with keys that you can buy elsewhere. There is something of a standard for this in the form of Cherry MX keycaps (for mechanical keyboards) but obviously these won't fit an Amiga... or will they?
The problem is these little guys: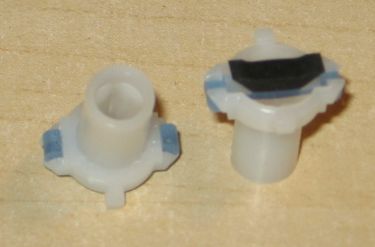 Whereas a Cherry MX keycap fitting looks like this:
If the stem were to be cut off and replaced by a cross fitting I think a Cherry keycap could be made to fit on an Amiga keyboard. An A1200 keyboard has 96 of these and they are all identical so maybe it is possible to adapt them.